Paddy Separator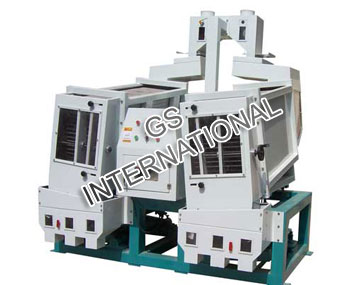 Paddy Separator - An essential unit Rice Processing. A very efficient machine which separates paddy from shelled Grains. Our engineers take special care in its manufacturing process. Our machines are of latest design, with rigid construction and best work man ship with seasoned raw material. It is manufactured in three to four tires having 18 to 72 compartments. Main separation box is made of Teak wood which ensures good quality and efficient operation. Our machine gives more output with lesser power consumption. Its main chasis is made of best quality M.S sheet. It moves smoothly on vertical & horizontal bearings fitted with special grade nylon rings for long lasting operations. The machine is moved by under situated bearing type eccentry wheel.
APPLICATION
Paddy separation is done by paddy separators made of M.S.structure . As the paddy is less denser , rice tends to float and is displaced at the higher end of paddy separator during its to and formation by the unique of Zig-Zags and flooring made of stainless steel .
OPERATION
Mixture of paddy and brown rice is fed to the paddy separator uniformly after aspiration. The separation is being done through 3 point stroke adjustment with constant RPM .
FEATURES :
All steel designed.
New design of feeding through direct drop channels with large cross sectional and uniform loading of the individual compartments .
Precise longitudinal table guide insuring smooth running .
3 point stroke adjustment .
Atomized with latest technology for operation , no manual adjustments done .