Husk fired Boiler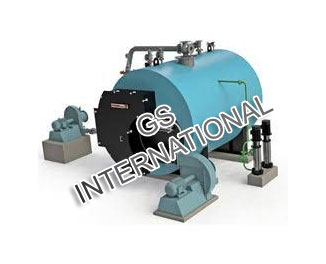 Husk fired Boiler are specially designed for light fuels like rice husk, wheat husk. This is package type design, with eccentric furnace, three pass, fully wet back & smoke tube type structure. Fuel is charged from the top through ventury type valve. Fuel is conveyed pneumatically by fans. Vibratory feeder is provided to spray constant amount of husk.
Product Range
Capacity 1 TPH to 6 TPH
Pressure 1 10.54kg/cm² to 17.5 kg/cm²(g)
Fuels 1 Rice husk, Wheat husk
Grates Controlled air combustion grate/ Fluidized bed combustion grate.
Efficiency Overall efficiency of 80 % (+/-2%)
Special Features
Automatic feeding of husk.
Compact and efficient design which requires less floor space.
3-pass fully wet back design for highest efficiency.
Available in CAC grate, FBC grate.
Two safety valves on separate nozzles are provided.
Special type steam separator provided for Best quality steam.
Easy for installation& commissioning.
Two fusible plugs are provided as final safety.
Twin furnaces can be provided to ease the fuel feeding (capacity 4 TPH- 6TPH)
Boiler can be customized with special fuel feeding arrangement as per requirement.
Accessories like Air pre heater, water pre heater, Dust collector can be provided.
Safety valve, steam stop valve, water level gauge glass & control switches mounted on the boiler
Multifuel Firing is possible without any change in Boiler.